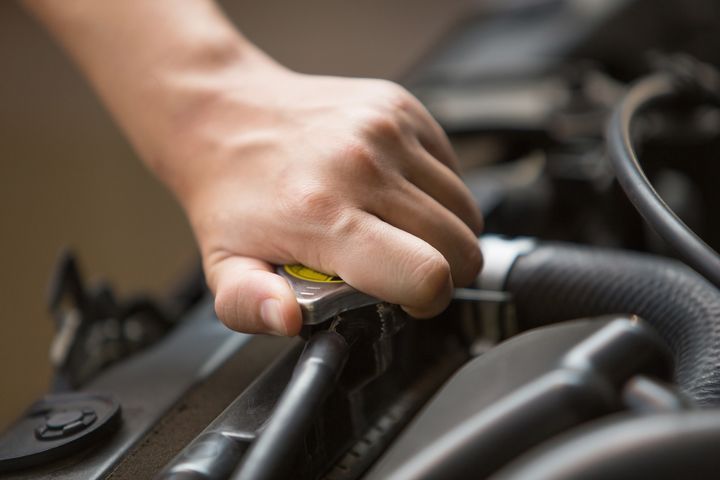 How does a radiator work?
Your vehicle's radiator is part of your car's cooling system. Hot coolant, or antifreeze, flows into the usually aluminum radiator and the radiator cools the liquid down. The vehicle's fan also assists in cooling the hot coolant down, and the liquid flows back to the engine. This cycle repeats as you drive to keep your engine from overheating. Radiators also sometimes include a turbulator, or a fin that increases the turbulence of the coolant running through the radiator. Creating turbulence means that more of the coolant liquid will be exposed to the tube, thereby extracting more heat and cooling the liquid down faster.
Hose clamps are used to secure the hoses in place, and drain petcocks are located on top of the radiator and are valves used to drain coolant when it needs to be changed or worked on. When you bring your vehicle into Downtown Automotive in Nelson, we will change the coolant in your radiator out by removing the radiator cap and releasing the clamps to loosen the hose and drain the coolant out. Over time, coolant liquid becomes contaminated with debris, dirt and other particles, so it is important to get your coolant flushed every time you bring your vehicle in for preventative maintenance. Our Exceptional technicians have performed hundreds of coolant flushes on Ford vehicles, Toyota vehicles, and more.
The radiator is an important part of your vehicle. As the radiator ages, mineral deposits from the coolant liquid builds up, in turn blocking the flow of fluid through the system. This will cause pressure in your vehicle's cooling system, which can damage the water pump, hoses, and thermostat. This could in turn cause engine overheating and engine damage in the long run. To make sure your vehicle's radiator is running as it should, you can bring your car to Downtown Automotive. Serving residents of Salmo, BC, Trail, BC, Nelson, BC, Balfour, BC, Castlegar, BC and beyond since 1998, we are experts in all things auto repair and can take care of your vehicle, bumper to bumper.
What is a radiator hose?
Your vehicle's radiator hose manages the flow of coolant from the pump of the engine to the heater. There are two types of radiator hoses: the upper radiator hose and the lower radiator hose. These hoses connect to different parts of your vehicle. The upper radiator hose is connected to the top of the vehicle's engine, and the lower radiator hose is connected to the bottom of the radiator and the engine pump. The hoses are made of synthetic rubber to resist heat, vibrations and pressure from the cooling system.
How do I know if I need a radiator hose replacement?
Because radiator hoses degrade from the inside and not from the outside, it can be difficult to detect when there is an issue with the hose. If not replaced at the correct intervals, the radiator hoses tiny cracks and holes that can lead to contractions or ruptures from the pressure. At Downtown Automotive in Nelson, we believe it is a good idea to replace the radiator hoses every 4 years or 50,000-75,000 miles. Oftentimes, a problem with your vehicle's radiator can be resolved with a radiator hose replacement instead of replacing a radiator completely.
Here are some signs that your vehicle needs a radiator hose replacement:
You see coolant leaking out of your vehicle: If you see green fluid underneath your vehicle, it probably means that the coolant is leaking. However, the coolant could be leaking from the radiator drain cock, the radiator itself, or the radiator hose. If you notice this issue, do not hesitate to bring your vehicle to Downtown Automotive in Nelson.


Your engine is overheating: This is a serious symptom that should be treated as soon as possible. If your engine is overheating, your radiator hose probably has cracks and is leaking.


Your vehicle's coolant is running low: If your Low Coolant light turns on and/or you find yourself replacing your vehicle's coolant frequently, this probably means your radiator hose is broken and needs to be replaced.
[secondary slogan] - Your Expert Shop for Radiator Hose Replacement in Nelson, BC, V1L 6G6
We at Downtown Automotive in Nelson have a team of technicians who are ASE Certified, and are capable of repairing or replacing the radiator in your vehicle. Since 1998, our owner Doug Brackett and their team have been working to prioritize top-quality customer service to residents in Nelson and in the surrounding area. We can work on your Honda, Subaru, Chevrolet, Nissan, or any other make or model you may have. Our mission is to exceed your expectations by earning your trust and providing the most reliable, honest, and courteous service available in the market today. Whether you are looking for a cooling system service such as water pumps or radiators, or just a simple coolant exchange service, our technicians can easily handle it. Reasons You Should Do Business With Us:
Transparency
Honesty
Integrity
We are Experts
Years of Experience
We have a review score of 100 based on reviews from 734 satisfied customers and our services come with a 36,000 KM warranty. If you are in Nelson or surrounding areas, feel free to call or text us at 250-505-2110 or go to our website to schedule an appointment! Downtown Automotive - Auto Repair you Can Trust, at a Fair Price.