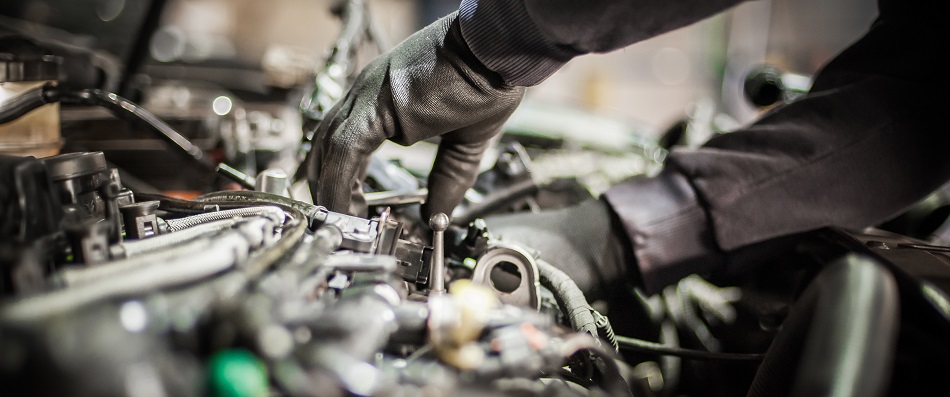 What does a transmission do?
Transmissions are one of the most important parts of your vehicle. Whether your vehicle has an automatic transmission or a manual transmission, this component is what makes your car move forward. The transmission works to send the power from the internal combustion engine to the wheels. There are two different types of transmissions that work differently:
Automatic transmission
Automatic transmissions shift gears by themselves based on throttle response, vehicle load weight, and speed.
CVTs, or continuously variable transmissions, are newer transmissions used in smaller cars and hybrid vehicles. Instead of using gears, they use a pulley system to give power to the wheels.
Gone are the days of automatic transmissions with a dipstick. Downtown Automotive has the tools and expertise to check your fluid level and condition.
Manual transmission
Manual transmission requires the driver to use the clutch and gear shift to change the gears manually, depending on the speed and acceleration of the vehicle.
Signs you may need a transmission repair
There are many different signs that there are issues with your vehicle's transmission. If you experience any of these problems while driving your vehicle, come to Downtown Automotive where our technicians can properly diagnose and treat it.
Grinding when changing gears: If you are changing gears in your manual transmission and you notice a grinding noise, there is some underlying issue that needs to be looked at. For automatic transmissions, if you notice your vehicle shaking it is a sign that there is something wrong with the gears.
Problems with shifting gears: A normal transmission allows you to change gears smoothly without any difficulty. If there is any hesitation, jerking, and the gears change by itself, the transmission needs to be fixed.
Unusual noises and clunks: If you put your vehicle in neutral and there are any excessive noises and clunking noises, come to Downtown Automotive in Nelson where our technicians can properly examine your transmission.
Burnt smell: If the transmission fluid looks burnt and/or has a burnt smell to it, there is something wrong with the fluid. Friction from the gears can cause a burnt smell to occur.
Leaking transmission fluid: Transmission fluids are typically red. If you notice a red fluid leaking underneath your vehicle, you need to get your transmission repaired as soon as possible.
Your Reliable Shop for Transmission Repair
Whether you need transmission repair for your Honda, Subaru, Chevrolet, Nissan, or any other make, if you are noticing any issues with your transmission, you need to get it repaired as soon as possible. Make Downtown Automotive in Nelson the place you go to fix your transmission. Since 1998, our Reliable technicians have years of experience working on transmissions on many different vehicles. We will get your car back in shape and take care of it to keep you safe on the road and ensure that there won't be any future problems.
Reasons You Should Do Business With Us
Transparency
Honesty
Integrity
We are Experts
Years of Experience
If you are in the Salmo, BC, Trail, BC, Nelson, BC area or nearby, don't hesitate to schedule an appointment with Downtown Automotive, either online at https://downtownautonelson.com/ or via phone or text at 250-505-2110. Downtown Automotive - Auto Repair you Can Trust, at a Fair Price.